Are you traveling through Waverley Station? If you find yourself with some time to spare before your next train arrives, you should explore.
Read on to discover everything that Waverley Station has to offer.
Inside Waverley Station
Waverley Station is full of great places to eat and incredible architecture to see. So, if you find yourself with a little bit of free time, you should walk around and explore all that it has to offer.
Gorgeous Architecture and Rich History
Waverley Station has been a staple of Scotland since the mid-1800s. Located directly between Old Town and New Town Edinburgh, it is loaded with rich history and beautiful architectural design. It is definitely worth taking some time to explore and learn about the role it played in the city's history.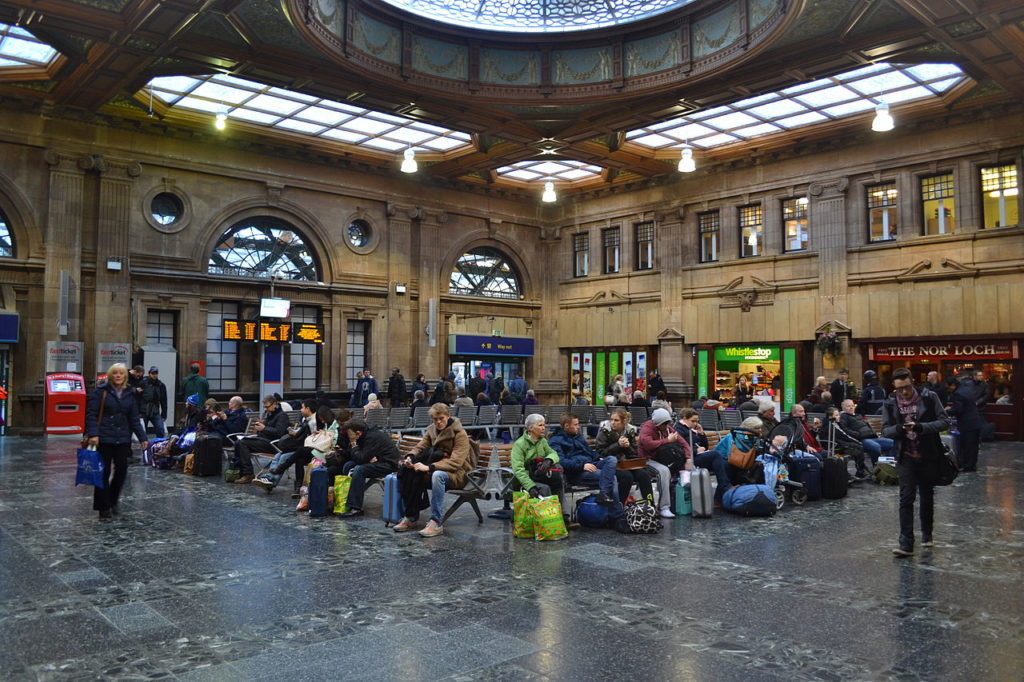 Dining Options
Whether you are looking for breakfast, lunch, or dinner, Waverley Station has got you covered. For breakfast, you can make your way over to Caffe Nero, The Pastry Shop, or The Bagel Factory. If you are there around lunchtime, you can grab a burger at The Nor Loch. At dinner time, head over to The Ivy on The Square Edinburgh for a delicious meal.
Luggage Storage
If you find yourself in a position which you want to leave the station to get food or see the sights but don't want to bring your bags with you, you should drop them off in storage. Many people don't know that there is luggage storage in Waverley Station that allows you to safely store your bags and see the sights while you wait for your next train.
Around Waverley Station
Now that you know that you can store your luggage in Waverley Station, it's time to take a look at what's around it. From museums to cathedrals, you can almost throw a rock anywhere in Edinburgh and hit something worth visiting if you have the time.
The Royal Mile
The Royal Mile is a chain of streets that connect Edinburgh Castle to the Palace of Holyroodhouse. A walk down this lovely stretch of the city will reward you with shops, townhouses, restaurants, cafes, and a glimpse into historical Scottish culture. It would be easy to kill a couple of hours wandering these roads.
Edinburgh Castle
The Edinburgh Castle is a must-see for anyone who steps foot in the city. This beloved attraction overlooks the city and rewards its visitors with incredible views and exposure to one of the most historical landmarks in all of Britain.
The National Museum of Scotland
If you are looking for a free event that will give you a peek into Scottish culture, look no further than the National Museum of Scotland. Within this all-encompassing museum lies 8,000 artifacts spread out over 16 separate galleries. Be careful not to miss your next train as it would be easy to spend two-plus hours taking it all in.
Princess Street
If you want to get some quick shopping in, then Princess Street is where you need to go. Along with one of the world's oldest department stores, you can find just about any type of shop or food along this lively street.
Calton Hill
If you just want a great view of this historic city, Calton Hill is where you need to go. A climb to the top of this national monument will reward you with panoramic views of Edinburgh, as well as an up-close and personal view of the impressive Scottish National Monument.
The Surgeons' Hall Museum
If you have any curiosity about the development of medical procedures and medicines throughout history, then you will enjoy the Surgeons' Hall Museum. Here you can find three different attractions full of tools, procedures, and materials that show you how they were developed throughout the years.
Giles Cathedral
Who doesn't love visiting an old cathedral? They always give the perfect insight into a culture's architectural beginnings, putting on display the elements of design that they valued most. The St. Giles Cathedral is no exception to this. Also known as the High Kirk of Edinburgh, St. Giles is full of incredible statues, designs, and other historical artifacts.
Scottish National Gallery of Modern Art
Last but not least is the Scottish National Gallery of Modern Art. If you like Art, then this is an absolute must-see. Within this gallery, you can find works from the hands of Picasso and Ernst and many more. More infamously, the SNGMA is known for its collection of sculptures.
The Bottom Line
If you are traveling through Waverley Station and find yourself with a good bit of time before your next train arrives, you should get out and explore the city. There is plenty to do in and around the station, so figure out what you want to do, place your bags in storage, and start exploring!