If your organization has had CRM software for a while now, it may be time to start looking at some potential improvements. Unfortunately, you may be finding that some of the features just do not work as well as they used to, and the things that were helpful at first have turned into one of those "nice to know" features. This article is about five ways your company's CRM software could be improved!
Provide CRM Employee Training
The problem with a lot of CRM software is that it is complicated. It can take a while to learn, and even when you have been using it for years, there are still new features that come out now and then. That is why providing training on how the system works would be great! In addition, if all employees know what they are doing, everyone will get more done, which means less time spent on tasks just because no one else knows how to do them.
Training on a CRM system can help improve productivity, and it also eliminates the need for a lot of emails as people can use the system to ask questions or get information. Training should include using the system, integrating with different other systems in your organization, and updates recently.
It is essential to train management on CRM meetings as well. Customer management apps are great for organizing meetings, but they are also used to schedule them too – this can lead to some issues when you need someone from outside of the company or team involved. However, the person scheduling meetings will see who is available for the meeting, which solves one issue.
However, because supervisors do not always know where everything is located within their own employees' CRMs, they may accidentally set up a meeting at an inconvenient time, which means only those invited get notified about it. In contrast, others do not find out the meeting has started.
Improve Usability Across Devices
One of the biggest issues with CRM software is that there can be trouble accessing the account feature on some devices because they do not sync well. For example, if you are using a computer but want to access your contact list from your phone- if there's no way to do this, then it defeats the purpose of working anywhere at any time! It would be great if companies consider how their customers will use their product so that everyone has an easy experience when working remotely (or in person).
The best thing about having a more user-friendly CRM is that the company would get better customer feedback. If it is hard for customers to use a product, they are less likely to bother with trying or take the time and energy to give constructive criticism because of frustration.
Better User Interface Design
The interface of CRMs can make or break whether a customer will stay with the company, especially those who are using it remotely. Unfortunately, all these programs use similar ways of navigating through menus and screens, but there could always be improvements made!
If customers feel lost trying to figure out how something works, they will get frustrated fast enough without having a system telling them what they need to do next. The whole point of technology is convenience, and it is best to have a user-friendly interface.
The simplest solution to this problem is making sure that the menu structure and tabs are logical so it is easier for customers to figure out where they need to go.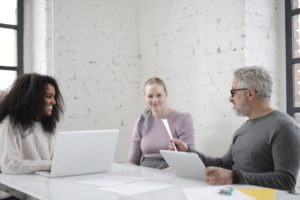 Automatically Link Phone Numbers Together in Calls
It is always good to automatically link phone numbers together in calls to have a single account for all of their interactions.
It is frustrating when customers need to give the same information repeatedly or even start from scratch because they realize that this info has been lost in an unlinked call. This can be prevented by automatically linking phone numbers together, so there are fewer issues with customer service along the way!
Add Notes on Projects/Assignments with Links and References
It is always helpful to have the ability to add notes on projects/assignments with links and references, which is especially helpful for private equity firms that have to handle massive loads of big data. That is why it is so important for specialty firms, such as the Private Equity CRM function, to have amazing CRM systems. This is helpful for multiple reasons, but in particular, because it helps customers have a better view of the company's work history and reference points from previous discussions more quickly than they would otherwise be able to do so.
In conclusion, CRM software is a very important tool for any organization. However, as with any effective software tool, it is important to look for ways to update it and enhance the system both for ease of employee use and to streamline the customers' process.